Toon Amsterdam in Amsterdam
at 19:30 Wednesday 7 September and Thursday 8 September
Contact: Loveday Smith lovedaysmith@gmail.com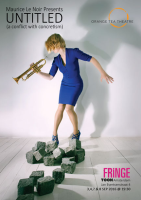 For The Amsterdam Fringe Festival 2016
Loveday Smith In Association With Orange Tea Theatre Presents:
Maurice Le Noir Presents: Untitled (A Conflict With Concretism)
A Comedy by Loveday Smith.

A pile of bricks, a bucket of concrete, a trumpet player with a grievance... In the uncompromising world of performance art, things are about to get personal.
Martha Jones used to be Maurice Le Noir's muse but finds herself shunted into the role of back stage accompanist. Her replacement in the spotlight is a collection of granite bricks that Maurice believes expresses his vision more eloquently than Martha can; is less opinionated and more photogenic than she is.

When Maurice unexpectedly disappears on opening night, Martha finds herself having to fulfil both aspects of the piece simultaneously: playing the trumpet accompaniment with one hand whilst mixing the concrete herself and single-handedly building a granite monument that sums up everything she hates about modern art.

Frustrated and underappreciated, Martha begins to confide in the audience, giving them the lowdown on the whole brick saga, dishing the dirt on Maurice, and even giving an impromptu performance of her own work. Her journey is one of hope and disillusionment, of ambition and self-realisation. It takes a very light-hearted look at the interface between visual arts, immaterial art, music and theatre; and invites the audience to address for themselves the boundless question: What Is Art?

Maurice Le Noir Presents... is a solo show, written and performed by Loveday Smith and directed by Sam Morris. The pair has worked together many times, including Orange Tea Theatre's 2015 Amsterdam Fringe Production, Strange Divide.

Loveday Smith is a British actor-musician, living and working in the Netherlands. Recently, she was unexpectedly drawn into the world of conceptual and performance art, working first at the Stedelijk for Tino Sehgal; then collaborating with Michael Portnoy on Relational Stalinism: The Musical at the Witte de With in Rotterdam. Inspired by these experiences, she has created a piece that will appeal to a wide cross-fertilised art/music/theatre audience, but will also reach out to people beyond these traditional spheres.

Sam Morris is co-founder and artistic director of Orange Tea Theatre, a professional company based in Amsterdam that creates and performs modern plays in the English language. He wrote and directed Hertz and Volts, which both premiered at the Melkweg Theatre; and has just directed the European premiere of Borderlands at the OstadeTheater.
Tickets are ?11 and may be purchased through the Amsterdam Fringe Festival website: