Is normal normal?
Parktheater in Eindhoven
at 20:30 Wednesday 21 September
De Koninklijke Schouwburg in Den Haag
at 20:30 Thursday 22 September and Daily until Saturday 24 September
Contact: The English Theatre colinda@theenglishtheatre.nl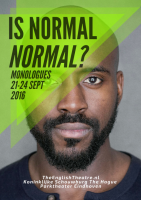 Olivia Gray, Pierre Elliott and Akpore Uzoh present their self-written solo-pieces in the atmospheric small attic theatre of the Koninklijke Schouwburg in The Hague.

The question that they examine is what normality is. Olivia Gray is looking at the issue of autism in Grateful, a moving tribute to both her sisters.

Pierre Eliott examines in BONOBOS why certain sexual feelings cannot be expressed, whilst they seem to be so normal in his own experience.

And Akpore Uzoh struggles in A Day in the Life with the fact that 'normal' obviously is race and colour sensitive. Three very personal and thought provoking pieces. After the performance the audience is invited to talk to the actors about their work and the issues raised.

This programme provides Dutch and international audience with a unique opportunity to see young actors at the outset of their careers at work.
Venues
Parktheater


Elzentlaan 50, 5615 CN Eindhoven
Webpage for Parktheater
Directions: Elzentlaan 50 5615 CN Eindhoven
Find how to get there with:
9292 by Public Transport