Ignite Amsterdam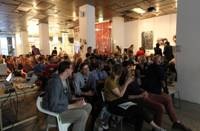 Mediamatic Fabriek in Amsterdam
at 19:00 Wednesday 28 September and every last Wednesday of each Month
Ignite is run by locals, for locals. Fast-paced and merciless, speakers get five minutes to present, making use of twenty slides that auto-advance every fifteen seconds. All presen ..
Pottery and Raku
Beth Holt Pottery in Amsterdam
September and Monthly
Specialized in making diverse sorts of pottery and raku, Japanese technique fired in a kiln at 1000 c. Custom made pieces may be ordered. Utilitarian pieces as well as decorative pieces ca ..